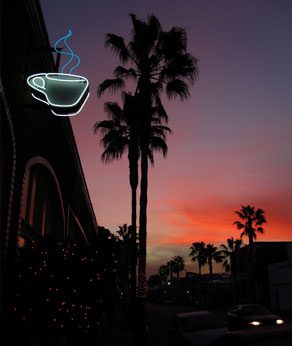 Los Angeles is undoubtedly a foodie town, with farmers markets, specialty grocers, and world-class restaurants and bars dotting the cityscape. But the coffee scene has been a little slower to mature, with chains like The Coffee Bean & Tea Leaf and Starbucks dominating the options. Over the past few years, however, that's gradually been changing with a growing legion of independent cafés and roasteries setting up shop in neighborhoods across the city. Here are our picks for the best beans and brews around LA, and a few extras that are worth a side trip.
Groundwork
Several locations; groundworkcoffee.com
A staple of the local coffee scene since 1990, Groundwork was one of the first certified-organic roasters in Southern California, and today they offer beans at five area cafés as well as local grocers and farmer's markets throughout greater Los Angeles.
Café de Leche
5000 York Blvd, Highland Park; 323-551-6828; cafedeleche
This bright and friendly café in the Highland Park neighborhood serves well-brewed Stumptown coffee along with house specialties like horchata combined with espresso.

Cafecito Organico
534 N. Hoover St., Silver Lake; 323-666-1950, cafecitoorganico.com
Farmers' market favorite, Cafecito Organico recently opened their first bricks-and-mortar location offering their same house-roasted single-origin beans and espresso blend, but with the addition of free wi-fi and tamales on the weekends.
Conservatory For Coffee, Tea, and Cocoa
10117 Washington Blvd., Culver City; 310-558-0436, conservatorycoffeeandtea.com
This café in trendy Culver City has tons of character with an impressive wall of vintage coffee brewers, a beautiful roaster proudly on display, plenty of indoor and outdoor seating and, of course, killer coffee.
Fix Coffee
2100 Echo Park Ave., Echo Park; 323-284-8962; fixcoffeeco.com
A sunny outdoor patio, free wi-fi, tasty pastries and deliciously brewed Intelly coffee offer plenty of reasons to check out this welcoming neighborhood café.
Intelligentsia
Several locations; intelligentsiacoffee.com
Chi-town roaster, Intelligentsia was California dreamin' when they set out west to Orange County in 2007. They now boast three locations, including a Glassell Park roasting facility and training center, and the Venice Coffeebar, which serves their flagship Black Cat espresso pulled from a vintage La Marzocco by award-winning baristas.
LAMILL Coffee Boutique
1636 Silver Lake Blvd., Silver Lake; 323-663-4441; www.lamillcoffee.com
The bright red storefront is hard to miss, and the Clover- and Chemex-brewed namesake coffee is even harder to forget.
Spring for Coffee
548 S Spring St., #106, Downtown; springforcoffee.com
This downtown café is serious about coffee. Brewed coffee can be prepared via Chemex, Melitta cups or press pots with beans from some of the country's best roasters, including Four Barrel, Equator, Ritual and LA's own LAMILL and Intelligentsia.
Urth Caffe
Several locations; urthcaffe.com
All organic all the time is the motto of this roastery, which has three retail locations in LA, as well as one in Santa Monica.
WORTH A SIDE TRIP
Coffee Klatch
806 W Arrow Hwy, San Dumas; 909-599-0452; klatchroasting.com
Right off the freeway in a strip mall just east of Los Angeles, you might be surprised to find the award-winning Coffee Klatch churning out expertly roasted coffee and espresso drinks.
Espresso Cielo
3101 Main St., Santa Monica; 310-314-9999; espressocielo.com
Since opening last winter, Espresso Cielo has been generating lots of neighborhood buzz for its rich, robust espresso, creamy cappuccinos and cups of pour-over coffee (from Vancouver, B.C.'s 49th Parallel), as well as a pastry case stocked full of locally baked goods, like blueberry tarts and granola muffins.
Kéan Coffee
2043 Westliff Dr. Ste 100, Newport Beach; 949-642-5326; keancoffee.com
If there's anyone who understands artisan coffee, it's the Diedrich family. Their caffeinated roots date back to an early 1900s Guatemalan coffee farm, and today brother Stephen is the designer and builder behind the hugely successful Diedrich roasting machines while brother Martin now runs Kéan Coffee years resigning his position with Diedrich Coffee. You can expect latte art-adorned, high-quality coffee roasted onsite daily by Martin himself.
Jones Coffee Roasters
537 S. Raymond Ave., Pasadena; 626-564-9291; thebestcoffee.com
In an oversized Pasadena warehouse you'll find Jones Coffee Roasters where you can grab an expertly constructed cappuccino and a pound of their single-origin or blended beans to go. Sign up for their coffee college and get dibs on coffee cuppings, barista workshops and organized origin trips to the family's Guatemalan coffee estate.