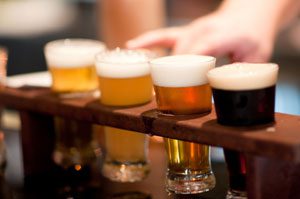 The original lawnmower beers—thanks to an easy-drinking freshness that pairs perfectly with these dog days of summer—lagers first found favor among 16th-century Bavarians. Crafted with a different yeast than ales, lagers ferment slowly and at cooler temperatures, lending a refreshing crispness to the overall brew. And while Europeans have long lifted pint after lagery pint to their lips, domestic drinkers resisted (you can blame lager's long association with mass-produced macrobrews). But change is afoot, with a growing number of U.S. brewers now introducing local lagers to their lineups.
This Brooklyn original combines traditional Vienna amber lager stylings with a dry-hop twist for a smooth, aromatic palate pleaser.
The summer edition of Full Sail's LTD limited-edition lager series is a righteously golden, honey-noted lager with a zippy hop finish.
Kona Brewing Co. Longboard Lager
Ride the wave of cool lager refreshment with this Big Island-inspired beer from Kona Brewing Company. Lagered for more than a month and brewed with traditional German and Czech hops (along with a dose of Mt. Hood hops for a slight spicy kick), this lager is an easy-drinking favorite among those in Hawaii and on the Mainland alike.
This Czech-style pilsner was New Belgium's first foray into lagers back in 1999—predating the brewery's latest offering, the canned Shift Lager—and its pure drinkability has made it a classic.
The first in this Oregon brewery's Prismatic Series of lagered beers, this Munich helles–style refresher features authentic pilsner and Vienna malts and a duo of German hops.
The second in the hyper-local Chatoe Rogue series of beers made with hops and malts from Rogue's own Oregon hopyard and barley farm (plus coastal water), this full-bodied, dark lager won World's Best Lager honors at the 2010 World Beer Awards.
Samuel Adams' first beer, back in the mid-1980s, was the beer that launched a thousand craft beers. The Boston Beer Co. did lagers when lagers weren't cool, and now many other craft brewers are joining them in flying the lager flag.
Formerly called Sehr Crisp (very crisp, in German), this light but flavorful Noble-hopped Brooklyn offering got a facelift last summer—it's now packaged in picnic-ready tallboy cans.
TAGS: {cptags}